17 September 2015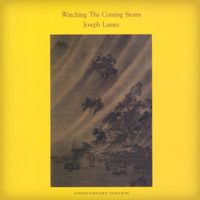 Nearly thirty years after its original release, a remastered and expanded Anniversary Edition version of Joseph Lamm's first album, Watching the Coming Storm, recently hit No.1 in the US on the Avant Garde chart at Amazon. At the time rated "Excellent" by Australian magazine SPAMM, Lamm was also called "a progressive's progressive; an intriguing blend of poet, rocker, and mystic" by Vortexx magazine in the US. The album contains the songs High Plains Drifter and Still Waiting, both of which reached the Top Ten on christian rock radio programs in the United States, Australia and New Zealand.
Steve Millikan, a gold and platinum album award-winning record producer, composer and musician, produced the project after several meetings with Lamm regarding how best to approach the songs. "Music producers typically attempt to harness creative energy, guide the artist, and provide an atmosphere where that creativity can flourish. I, on the other hand, was hanging on for dear life, just trying to keep up with the river of creativity flowing out of Joseph when we recorded Watching the Coming Storm."

Working alongside Lamm and Millikan were world-class musicians including violinist Sherban Lupu (Cornel Taranu, the Kennedy Center, Royal Festival Hall), drummer Dane Clark (John Mellencamp, Donovan, Sting), bassist Steve Dokken (Henry Mancini Orchestra, Rod Stewart, the Moody Blues), and guitarist Sandy Williams (Steve Earle, Eddie Money, Lou Gramm, Paul Carrack). They brought the level of playing that Lamm, who is unable to read or write music, required in order to fulfill the arrangements he heard in his head.

"Joseph Lamm's music is complex, unfettered, brimming over with creativity, and ever-evolving", Millikan continued. "His lack of formal music training works to his advantage, as there are no rules in his creative world. He unknowingly broke down some of the self-imposed musical barriers that existed in my own musical experience with a sort of child-like enjoyment of the unusual."
 
The Anniversary Edition has been remastered and expanded, with newly recorded music grafted onto the original tracks. Lamm says "These parts were always intended by me to be on the album, but we (producer Steve Millikan and myself) were limited by time constraints and the technology of the day. The new sessions were done with the Music Hypnotica team of guitarist Elliott Lamm, keyboardist/engineer David Price and myself. This Anniversary Edition reissue provides the opportunity to bring to fruition those original ideas."
The digital version of the album was reissued 8 July exclusively at josephlamm.com on Jefferson House Communique and is now available at Amazon, itunes, and all other major online retailers. The CD version will follow as a limited hand-numbered digipack that includes the original inner sleeve artwork by American painter/designer Robert Blass.