12 JUNE 2020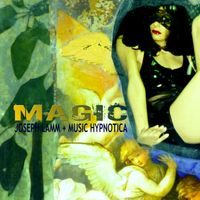 Joseph Lamm + Music Hypnotica have announced their new single, "Magic", will be released 26 June via Jefferson House Communique. It is taken from the new studio album, Anonymous, which will follow on 17 July.
The song was inspired by the major strokes Lamm suffered during the recording sessions in the summer of 2019. "I was absolutely gobsmacked", comments Lamm. "Elliott and I had planned a morning outside to enjoy the day, but instead he arrived in a flash and got me to hospital. He helped save my life."
Afterwards, during recovery, Lamm experienced a rush of creativity, all expressing thankfulness for the joy of being alive. "One of the things I realized was, well, that the thoughts I believed true at age 21 were different than 41, and the thoughts I have now are different again. So then it kind of hit me, that it's okay. It's alright. I don't have to understand it, that life is magic."
Written by Joseph Lamm and Elliott Lamm and produced by the Bombay Brothers, the joyously upbeat song will be available on all major streaming platforms and as a digital download. The artwork and track listing for Anonymous will be announced soon.