25 AUGUST, 2020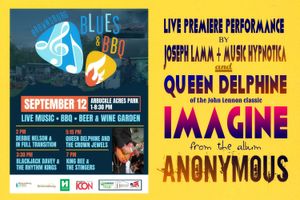 Joseph Lamm and members of Music Hypnotica will join the stage with Queen Delphine and the Crown Jewels this 12 September for the premiere live performance of their song "Imagine". The John Lennon classic has been re-imagined as a rousing and powerful blues-infused anthem, and has recently reached as high as No. 3 on the radio trade publication APD Global Radio Indicator Rock charts.
Lamm commented "When I had the idea for this song being presented as a joyous anthem, my only desire was to hope Queen Delphine would contribute her amazing powerhouse of a voice to it. The song absolutely cooks."
"Imagine" appears on ANONYMOUS, Lamm's fifth overall studio album and his second as Joseph Lamm + Music Hypnotica. Released 17 July, it is available through Jefferson House Communique as a digital download, CD, and streaming. The vinyl version will be available at the Bluesfest premiere, and will have its official release on 9 October, which is the birthday of the "Imagine" composer.