24 NOVEMBER, 2020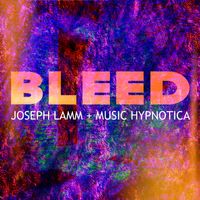 Joseph Lamm + Music Hypnotica announced today that a brand new single, "Bleed", has been released to streaming and digital outlets. The song is an energetic and scorching psychedelic blues rocker and is the lead single for the upcoming limited box set, Collectivity, which will become available on 18 December.
"The song came about after we had finished the Anonymous album this past summer", relates Joseph Lamm. "Elliott brought to the table this furious riff that he'd been playing around with, and it just gelled from there. We decided to keep the energy flowing from the last sessions and invited George Tyler to contribute drums, then we realized that the monster bass the song called for could only be supplied by our good friend and former Healing Sixes bassist Jeff Stone. To say this song cooks is an understatement!"
Anonymous was produced by the Bombay Brothers and reached No. 9 on the AirPlay Direct Global Indicator Rock Album Chart for August, which has so far become Lamm's highest charting position on a major industry chart. The album also had 5 songs in the top 6 positions on the APD Rock/AAA Chart during the first two weeks of August.