26 AUGUST, 2020
By Peg McRoy Glover
reprinted with kind permission from ICON magazine
The music Joseph Lamm creates is rather hard to define by genre. His creativity produces songs that fall into hard and alternative rock, modern pop, easy listening and more.
"I do switch up genres a lot," he said. "I enjoy creating whatever the muse and the passion leads me to."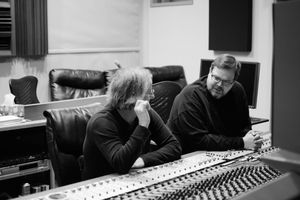 His latest work "Anonymous" released July 17 by the group called Joseph Lamm + Music Hypnotica. It opens with the hard rock song "Wild Mountain Rapture" and closes with "Smoke Filled Bar 2AM," an easy-listening instrumental. In between those two are original songs laced with alluring lyrics. Then smack dab in the middle of the album is the only cover song. It is a galvanizing and rousing rendition of John Lennon's "Imagine," played unlike Lennon's gentle imaginings. "I have always liked the possibilities that the lyrics suggest, and I loved the idea of making his (Lennon's) vision played like an anthem, an exciting call to action," Lamm said. Joining Lamm on vocals for "Imagine" is Queen Delphine and the Crown Jewels, known as one of Indianapolis' top blues bands that is also on the slate for the Sept. 12 Blues & BBQ in Brownsburg. "Having her bring her amazing voice and join me on this song makes for a tremendous experience," Lamm said. "It is joyous noise."
Born and raised in Brownsburg,Indiana, Lamm took a circuitous path in his professional musical career that landed him in Los Angeles then to Florida and back to Brownsburg. After graduating from Brownsburg High School in 1976, he attended Cedarville University in Ohio where he teamed up musically with his college roommate Geoffrey Walker. Together they wrote and produced music. "I loved the college experience, and that's when I realized how much I love being able to express myself through music," Lamm said. That revelation inspired him to head to L.A. and step into the professional arena where he released his first two albums, "Watching the Coming Storm" in 1984 and "Standing in the Tower'' in 1988. Three singles from these albums were top 10 hits on radio playlists in the United States, Canada and New Zealand. "There was plenty of opportunity had I wanted to pursue that type of life, but, I would have had to say goodbye to my family for long periods of time, and I just didn't want to do that," Lamm said. "My allegiances were elsewhere, and I love Indiana."
Lamm's change of venue didn't change his creative drive. In his Brownsburg hometown, he continued to write music and books throughout the years. This fall a vinyl version of "Anonymous" will be released with a lyric insert. Lamm also plans to join Queen Delphine at the Brownsburg Blues & BBQ Festival in Arbuckle Acres Park for a live performance of their rendition of Lennon's "Imagine."
Visit josephlamm.com to learn more about Lamm and his work.