5 NOVEMBER, 2021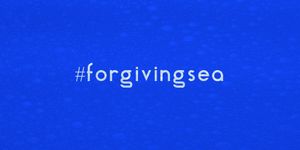 The Gala Opening for the vision, sound and touch interactive exhibition The Forgiving Sea Project was an overwhelming success on Friday evening as Harrison Center in Indianapolis, Indiana saw hundreds of guests in attendance at Speck Gallery. Comments like "breathtaking" and "awe-inspiring" were heard and written by the crowd during the course of the show, which also featured a jubilant performance by Kenyetta Dance Company.
Guests included Music Hypnotica guitarist/composer Elliott Lamm and his wife Chelsea Westerfield Lamm. They were joined during the event by bassist Jeff Stone and his wife, singer Chris Stone, along with several others from the visual, dance, and musical art communities.
"Everyone seemed to have a deep appreciation for the Project and its goals" said Joseph Lamm. 
The collaboration between painter Carolyn Springer and composer Joseph Lamm is inspired by a series of Springer's paintings titled The Forgiving Sea, all focused on the idea of forgiveness. The exhibition runs through 30 November.
purchase art, prints and music at Harrison Center here
learn more of Carolyn's work here