13 SEPTEMBER, 2021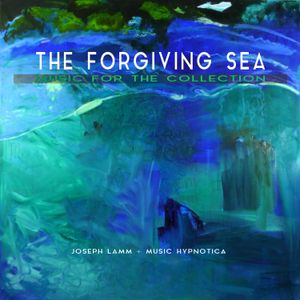 Joseph Lamm + Music Hypnotica announced today that their new album, The Forgiving Sea: Music for The Collection, will be released on 1 October, 2021 via Jefferson House Communique. 
"The album is a soundtrack of sorts" says Joseph Lamm. "It is inspired by the emotions felt when reflecting on the paintings of Carolyn Springer in her astounding series The Forgiving Sea."
The series began in 2016 after Carolyn envisioned a painting that would go beyond the boundaries of a traditional painting by inviting the viewer to actually write the name of someone or event that has given them pain, and the response has been overwhelming. As of August of 2021, scores of new layers have washed over literally thousands of names on the 3 completed 6' x 6' paintings.
This album has also seen a blossoming in guitarist Elliott Lamm as a composer, as 6 of the 8 tracks bear his name as sole or co-writer. "This album reaches deeply for emotions played through the guitar," he comments. "We wanted to feel dark and light through the instruments".
"It has been a blast to have Carolyn Springer help co-write "Early Evening Ocean" with some incredible spoken word", Joseph Lamm said. She lends her voice to "Hyperwave" and sings co-lead on the closing ballad "Give It To The Sea"
The Forgiving Sea: Music for The Collection will be available on CD and as a digital download, with a limited edition vinyl scheduled for early 2022.