11 DECEMBER, 2020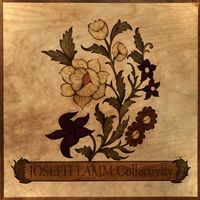 Joseph Lamm announced today a gorgeously crafted limited edition series of wooden box sets, titled Collectivity, is scheduled for release on 18 December. 
The set is compiled of selections from the Joseph Lamm solo albums Watching the Coming Storm, Standing in the Tower, and Hot As Sun Volume 1, and his work with Music Hypnotica Andean's Ascent and Anonymous. The set features the brand new recording, "Bleed", along with rare tracks from EPs and songs that were intended for the unreleased 1998 Aire Born album. 
Curated by Joseph Lamm and containing 26 songs remastered by David Price, this limited edition series of fine art uses the centuries-old technique of inlay marquetry, in which every shape, letter and design pattern is carved and fitted using different species of wood. Each exclusive piece of art box will contain 3 vinyl LPs along with a beautiful 16 page programme, a lyric insert and hand-painted postcards. These are one of a kind works created by Joseph's brother, American artist Mark Lamm, with each of the 12 designs being unique and signed by the artist. 
Collectivity will also be available through digital download and streaming on 18 December via Jefferson House Communique.