7 July 2020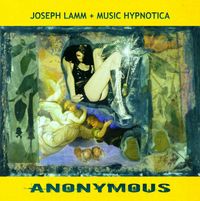 Joseph Lamm + Music Hypnotica have announced their new studio album, titled Anonymous, will be released on 17 July. The album is marked by an energetic and joyous sound that incorporates elements ranging from rock and modern pop to classical and easy listening. After recording nearly his entire song catalog over the years at Aire Born Studios, Anonymous was almost completely captured at Jefferson House Mobile using an iPad and Garageband. Tracks would then be transferred by David Price to ProTools at Aire Born. Early sessions in summer 2017 produced the chamber pop song "Good Doctor Tom", which features singer Lani Williams, but after sessions resumed in January of 2019 Joseph Lamm experienced major strokes that, while thankfully leaving no complex brain or motor damage, required months of recovery.
While resting, he and guitarist/composer Elliott Lamm had bursts of creativity which lead to many of the songs included on the album. The first single "Magic" actually came about while reflecting on the gratitude and thankfulness of being alive, while the declaration expressed in the classic "Imagine" becomes a blues-infused anthem encouraging a call to action and envisioning a hope for the future. Dynamic blues singer Queen Delphine of Queen Delphine and the Crown Jewels joins on vocals and brings a powerhouse of style to the song.
The album also features songs written by guitarist Elliott Lamm, who commented that "'Never Need More' is about my honeymoon. A simple song about enjoying the moment while also being  hopeful and confident concerning the future." His instrumental "Smoke Filled Bar 2AM" serves Anonymous as a relaxing coda.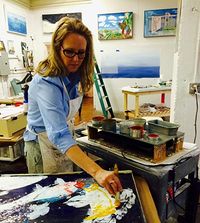 The artwork, "Rescue of the Fallen Angel", is by American contemporary artist Carolyn Springer. Her work has been exhibited nationally and internationally at sites ranging from the Berkeley Art Center in California, Japan's Citizen's Gallery in Yokohama, and The Mexican Cultural Center in Tijuana. She has won numerous awards including a Creative Renewal Fellowship to explore Japan and a research grant to study in Italy.
Anonymous will be available as a digital download, CD and through streaming. A vinyl version is scheduled for mid September.
Anonymous track listing:

Wild Mountain Rapture
She Likes Tokyo
Out Among The Waves
As One
Imagine (featuring Queen Delphine)
Good Doctor Tom (featuring Lani Williams)
Never Need More
Take Her Love
Magic
Smoke Filled Bar 2AM
to learn more about Carolyn Springer:
https://studiocarolynspringer.com/
to learn more about Queen Delphine: 
https://www.facebook.com/QueenDelphineandTheCrownJewels/
to learn more about Lani Williams:
https://laniandthetramps.com/