27 OCTOBER 2018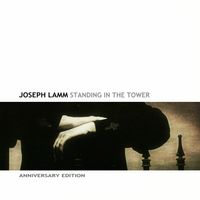 The Anniversary Edition of American artist Joseph Lamm's acclaimed 1988 studio album STANDING IN THE TOWER was released yesterday 26 October, 2018 via Jefferson House Communique.
The set was remastered by David Price at Aire Born Studios in Indianapolis. A previously unreleased song, "Approaching The Next Plane" is included and has been placed  in its originally intended sequence for the album. "The song has a fun little groove", Lamm comments. "The musicians all sat around me as I sang them the keyboard hook and had a good laugh. It's a bit simple but it's a straight out blast to hear it." 
The Anniversary Edition series began with WATCHING THE COMING STORM in 2015, which reached No. 1 on the Avant Garde chart on Amazon in the US. STANDING IN THE TOWER (Anniversary Edition) is available in CD, digial download and streaming versions. It premiered on Jango Radio, where listeners worldwide began streaming the album in its entirety one day before its official release.