15 January 2016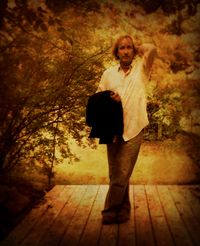 With the new ANDEAN'S ASCENT studio album now scheduled for a June release and the book that inspires it following soon after, Joseph Lamm has announced a Reading Tour for Spring 2016.

The projects were delayed in part due to the success of the remastered and expanded WATCHING THE COMING STORM (ANNIVERSARY EDITION) album, which reached No.1 on the US Amazon Avant Garde chart after its release in July 2015. The readings will include excerpts from the new book as well as selections from Lamm's previous collection BULL HEADED SAVIOUR.

"I am very much looking forward to sharing these new writings", related Lamm.  "I always dig the vibe that surrounds book readings. I'll be one of many writers at each event, so it should be quite fun." Asked about the new album, Lamm added "We've been putting the finishing touches on a track that explores some really vibrant rock and industrial sounds. How the entire album helps bring to musical life the themes found in the book is beyond cool. I can't wait to share it."
The Reading Tour for Spring 2016:

April 19  Cincinnati, OH, Public Library "Poetry in the Garden" Series
April 24  Yellow Springs, OH, Spirited Goat Coffee House
May 08   Indianapolis, IN, Indiana Writers Center "An Evening with the Muse" Series
May 15   Chicago, IL, Water Street Gallery